Some denture facts that might surprise you
A well fitted denture will produce a natural suction that will keep your denture in place when you eat, talk, laugh or yawn.
Well made dentures eliminate friction that could cause pain and mouth ulcers.
A poorly made denture can lead to jaw pain and headaches.
Brushing your denture too hard can cause it to stain more easily.
Dentures that are not relined regularly, (once every 3 -4 years), can cause gums to shrink rapidly.
Ask your Dental professional what process is used to make your dentures. The hot cured process will result in better quality dentures and the cold press process will result in poorer quality dentures.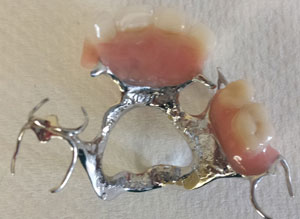 Take the Denture Test
Do you have painful gums? Yes / No
Do you have difficulty eating? Yes / No
Do your dentures fall out when you talk? Yes / No
Can you close your mouth properly? Yes / No
Are your teeth chipped and stained? Yes / No
Do you have ulcers on your gums? Yes / No
Do your teeth have that artificial look? Yes / No
If you have answered YES to any of the above, you have the incorrect dentures for your mouth or you have inferior quality dentures. Avoid the suffering that badly made dentures can cause. Get a denture from Niche Denture Centre and experience the benefits of wearing top of the range denture products that perform better, last longer and look beautiful.

Contact us now.